According to the US Bureau of Labor Statistics the hospitality industry, including Hotel and Motels, accounts for roughly 10% of all jobs, although the Coronavirus has had a significant impact.
In 2018, the US Bureau of Labor Statistics also recorded 18,710 nonfatal occupational injuries and illnesses involving days away from work just in the hotel industry alone.
According to the BLS and our personal experience with claims, workers in this industry have a higher than average risk of an injury which is why it's important to work with a company that understands your unique needs. Hotel and Motels are a target account for us at Direct Work Comp.
In this post, we'll talk about common workers compensation information for hotels and motels and what you can do to reduce hotel insurance costs and eliminate claims.
Motel & Hotel Workers Comp Class Codes 
The most common work comp class code for all hotel and motel workers is 9052.  This code applies to all workers such as front desk workers, housekeepers, bellhops, concierge, laundry workers, maids, porters, garage employees, salespersons and shuttle drivers.  This code also applies to workers in the operation of apartment hotels, dude ranches, and rooming or boarding houses.  Workers who prepare food or beverages are considered restaurant employees and are classified by code 9058.
Here are some other businesses that may be seen at a hotel that are specifically rated and have their own codes:
8017 Beach Chairs or Umbrellas
9016 Boats in Parks—& Drivers
8017 Cigarette Distribution
8017 Door Attendants
8008 Hat or Coat Check Rooms
8017 Parcel or Luggage Check Rooms
8392 Parking Lots—& Drivers
8017 Rolling Chairs
8017 Washroom Attendants
If you are still not sure about your class code, read our class code blog for more information.
Hotel and Motel Injuries 
Injuries in the hotel and motel industry are common as many jobs occur at a fast pace of work and can be very demanding. It's really important for business owners or managers to have a comprehensive training program for all new hires to help educate them about the potential risks of working in a hotel. Proper training will help reduce claims and keep your employees safe. This forward and preventative approach will allow a hotel or motel to pay less for workers compensation.  In a perfect world, training never stops and should be revisited frequently.
Common Injuries for hotel and motel workers are:
Slip and Fall Injuries – Slip and falls are very common in a hotel and can result in very large claims. There are many trip hazards such as wet floors, towels laying on floors, or vacuum cords that employees may trip over. When a personfalls, they can have a serious strain injury that may result in costly surgery and lost time away from work.   Working in close quarters they may further injure
themselves during the fall.  A significant injury could result in the hotel being short-staffed for an extended period of time.  Educating workers on these hazards, hopefully, they can be aware and can prevent claims.  Proper training to let employees know to put vacuums away when not in use and remove trip hazards right away when cleaning a room will help your hotel be safer.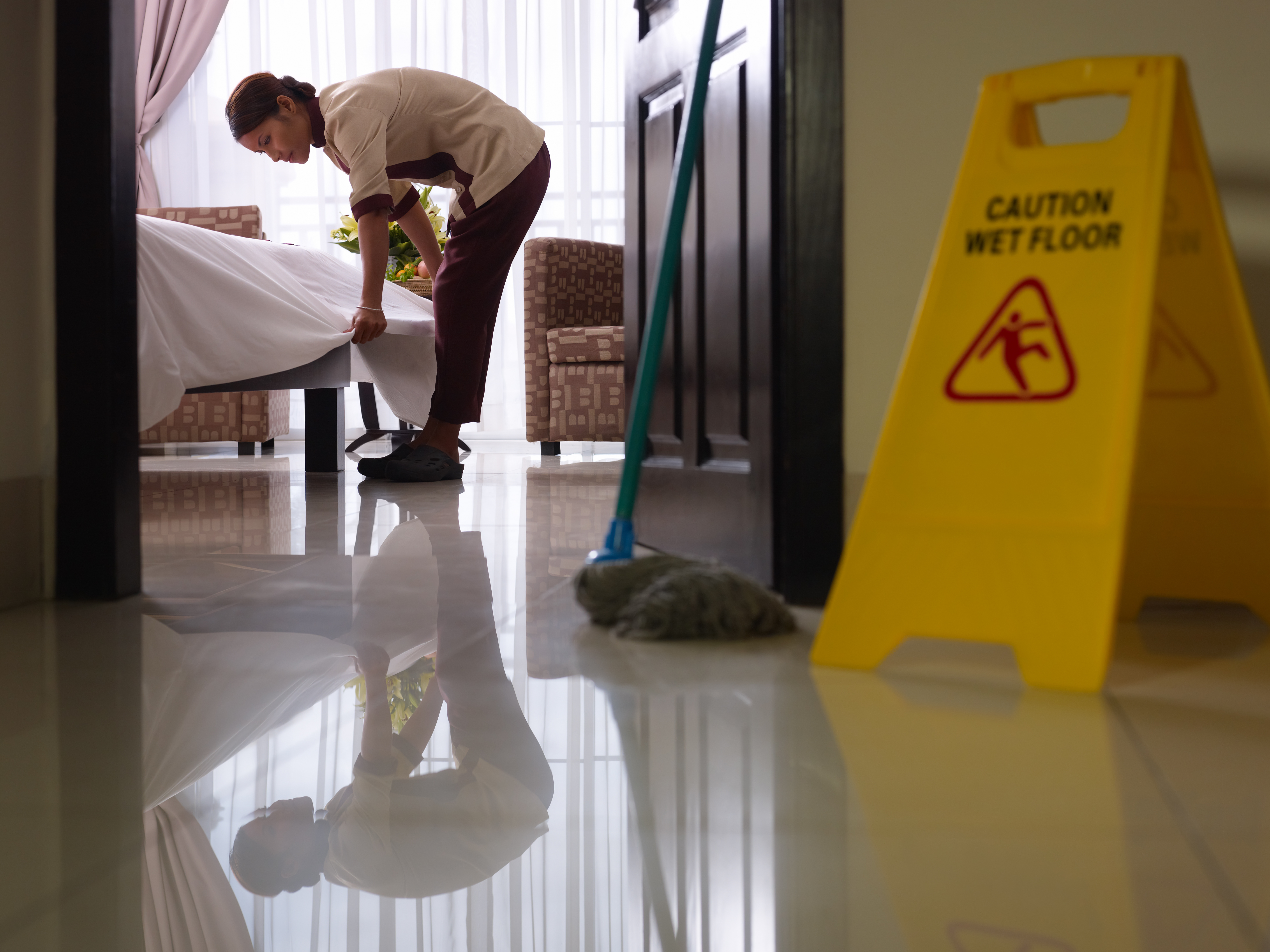 Overexertion – Housekeepers are asked to do a variety of jobs that may cause them to overexert themselves.  Improper lifting techniques can lead to significant strain injuries. It's not uncommon for housekeepers to work by themselves and not want to bother another worker so they try and lift a bed, move a chair or lifting heavy laundry and end up injuring themselves.  Proper lifting techniques and knowing when to ask for help should be included in the training.
Hotel Workers Compensation Safety Tips 
Return to Work Program 
One of the reasons we educate hotel owners and managers about a return to work program is because of the significant impact a claim can have on their future insurance premium. We understand that hotels may not have the ability to have somebody work in a different department. Perhaps there isn't enough work, or the training is so unique that it might not make sense.  Typically, if the housekeeper is injured, they may not know how to run the reservation system or vice versa, the front desk worker may not by physically capable after an injury to do housekeeping duties.  If your hotel is large enough that you can give somebody alternative work until they can return to their normal duties, it is highly recommended that you do this.
Here is why.
When a claim is classified as medical only, it carries a lot less weight than a claim where an injured worker must be off work.  This is usually called indemnity or indemnification leave.  In this scenario, the insurance carrier is providing them a paycheck until they can return to work.  These types of claims can be costlier and result in higher premiums for your hotel.  Typically for every dollar that is spent on a workers compensation claim by the insurance carrier, the policyholder will end up paying 3.  By keeping a claim medical only, the policyholder will pay less in the long run.
Personal Protective Equipment 
Proper safety equipment for hotel workers has always been important, and even more so now with the effects of COVID-19 virus. When it comes to workers compensation employees may be injured due to interactions with caustic chemicals, biohazard exposures, unsafe lifting or slip and falls due to improper shoes.   It's important that your hotel has written procedures and proper protective equipment for employees to do the various jobs that are required in a safe manner.
Failure to provide the proper safety equipment or training can lead to potential OSHA fines and costly claims.  Equipment needs should be reviewed periodically.
Direct Work Comp Services
At Direct Work Comp LLC, we believe that businesses shouldn't have to struggle to purchase insurance based on their individual needs. A simple, fast process that gives a great experience should be available. At Direct Work Comp we do just that with our expert service and online quote system.
We are headquartered in Des Moines, IA, and operate in several states in the Midwest. Our list of states we serve can be found here. We provide a personal touch and a local feel to the solutions and services we provide our clients.
Please feel free to contact us at 888.399.1190 or drop us an email at team@directworkcomp.com for your comprehensive insurance quote!
*Please note, this post is for informational use only & should not be considered as legal or medical advice.