Let's say you own a bakery. You have an employee, Heather, who mops the floors at the end of every day. Heather slips and drives herself to the emergency room because she thinks she broke her wrist. In reality, it is just bruised. Now a claim is filed, costing you more money in the long run. What if there was an easier, more cost-effective way – this is where nurse triage comes in.
What is Nurse Triage?
Nurse triage is a program often provided by your workers compensation provider. The program specifically helps connect injured employees to a nurse or medical professional over the phone.
Let's go back to the Heather example. After she fell, Heather could have called the nurse triage number. She could have talked to a nurse immediately to recommend what Heather should do. After asking some questions, the nurse would have been able to notify Heather that it was not broken. Heather wouldn't have needed to go to the emergency room & could have done some simple steps at home to heal.
Why is the Program Beneficial?
Employee Care
Your employees deserve the best care possible. Take control of their experience & make sure they have the best care possible with nurse triage.
Encourages Employee Reporting
The first 24 hours after reporting is so important. Nurse triage encourages employees to report injuries before they get out of hand with just a phone call.
Let's go back to the Heather example. Instead of Heather seeking care, she decides to not say anything about the injury. Weeks go by & she notices her wrist isn't getting any better. It gets to the point where she can't do her job, has a costly medical expense, and now you must scramble to fulfill her duties. Big picture, it affects your employee's livelihood and you will spend more money on future premium.
Saves You Money
Roughly 47% of all claims can be handled by nurse triage and result in no actual claim dollars being spent by your business or the insurance company. When this happens, this means that your policy does not have a claim filed on it and your business will not be paying more for insurance in the future.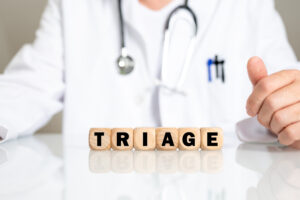 How Can You Implement Nurse Triage?
It depends on your policy. Your agent should be the mediator between the insurance company & yourself to implement a nurse triage program. At the end of the day, you shouldn't have to do much besides educate your employees.
If your policy doesn't have a nurse triage program, it might be time to tweak your policy. At Direct Work Comp we partner with Nurse Triage services to help all of our clients manage claims from the first phone call.  Injured workers who have a non-emergency claim can call an 800 number and receive care over the phone.  We also work with agents – so if you are a business owner reading this who still wants to work with their agent, no problem! You can email one of our team members at [email protected].