If you're a business owner, you need to provide workers' compensation insurance to your employees. However, understanding how workers' compensation insurance works isn't so easy. In short, workers' comp helps cover an employee's medical costs if they get injured or contract an illness as a result of work. 
Workers' compensation is required by most states, but even when it's not legally required, it's still necessary for protecting your business and your workers. Workers' compensation works similarly to other types of insurance, with a few key differences. 
How does workers' compensation insurance work? We will talk about what work comp covers, how to purchase coverage, and how the claim filing process works. 
What Does Work Comp Cover? 
When learning how workers' compensation insurance works, it's important to understand what this type of insurance covers. Here's what workers' compensation does cover:
Medical expenses from an injury or illness contracted on the job

Medications and prescriptions 

Travel expenses to and from medical appointments

Recovery costs, including physical therapy. Sometimes work comp will also cover chiropractor costs.

Lost wages

Permanent disability compensation

Ongoing costs of care 

Funeral costs
The expenses listed above are what workers' compensation insurance covers in the event of an injury or illness. If you have one or more employees, this coverage is essential! So how do you purchase coverage? Let's talk about it.
How to Purchase Work Comp Insurance
Each state has different regulations when it comes to workers' compensation – who needs to carry coverage and where to get it. It is best to talk to a workers' comp professional who can clarify everything for you. There are a few ways to obtain coverage – through a state program or a private insurance company that is licensed with your state.
You can work directly with an agent, shop online with an insurance company, or work with a broker. At Direct Work Comp, you can get a quote in minutes and see offers from multiple carriers we work with – you have options.
Once you pick where to purchase insurance, select your limits, and then bind the policy, you can rest easy knowing that your business and employees are protected.
Now let's say an employee gets injured and you need access to worker's comp benefits. In order to get these benefits, you and your employee need to work together to file a claim. This is a critical aspect of how workers' compensation insurance works. Let's take a look below.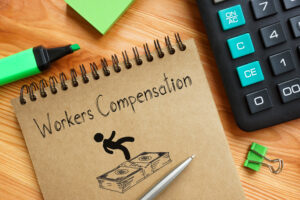 Everything You Should Know About the Filing Process 
Just like any other type of insurance, workers' compensation works by filing claims. Here's what you need to know. 
When an injury occurs at work, employees should report this as soon as practical to their employer. Even if they don't think they have an injury, it's better to report it and be safe. The maximum length of time to report a work comp claim varies by state. ADVISE: Check in with your work comp professional to find out what the specific requirements are for your state. After an injury occurs a claim needs to be filed. There are several different ways that a work comp claim can be reported.
After an injury occurs a claim needs to be filed. There are several different ways that a work comp claim can be reported.
If the claim is not an emergency Nurse triage services can serve as the primary contact to intake a work comp claim. Many times, they'll provide the guidance an injured worker needs as well as taking a recorded statement and filing the claim immediately with the carrier.
If the claim is an emergency, call 911 and seek immediate treatment. The claim can always be filed later. Here are a few typical ways a claim can be reported after an emergency.

Website intake form at the Insurance carrier
Phone call to the Insurance carrier
Paperwork that can be completed with your company representative and then sent to the insurance carrier.
After the claim has been reported it's best that both the injured worker and Employer stay in frequent contact. Whether it's a daily or a weekly check-in it's best to stay in touch and make sure that things are progressing well.
After a few days, your insurance company will either deny or approve the workers' comp claim. If they approve it, you can proceed with the process. This includes figuring out what benefits the employee is eligible for and working on supporting their recovery. If denied, the employee can submit an appeal form, or accept the outcome and continue recovery.
ADVISE: Having a return-to-work program in place can help your employees transition back to the workplace. If you are unfamiliar with this program, ask your work comp provider or professional.
Taking the Work Out of Work Comp 
 Some companies appoint an HR representative to take care of work comp for their company, and others use a third party to help. Here at DWC, our professionals can help you streamline your program and take the work out of work comp! If you have any questions, feel free to email us at [email protected].